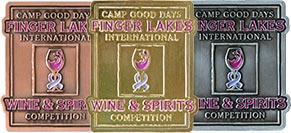 We Promote Our Winners!
In addition to benefiting Camp Good Days, the Finger Lakes International Wine & Spirits Competition (FLIWC) promotes your wines and spirits. By entering our competition, your wines or spirits will receive the exposure that's important for strong sales and profitability. Award winning entries with the FLIWC distinction of excellence are more sought out. They hold more value as they are making a difference in the lives of thousands of children and families impacted by cancer and sickle cell anemia.
Our Auction & Dinner is a large promotion in itself, and the auctioneer emphasizes all the award winners. Many of our judges are prominent buyers, and look to the competition results for guidance. At every opportunity, the FLIWC will be promoting your award-winning entries regionally, statewide and at local wine events throughout the country. Our website list of award-winners is also linked directly to your website.
Added Value For Your Medal Winning Wines
Web Links -

We will link each award-winning entry directly to your website if you provide us with a web address on the entry form.

Influential International Judges -

Our judges include important buyers for restaurants and retailers

Press Releases -

We provide press releases promoting the winners and the results online. Media coverage grows every year.

Auction & Dinner -

Our popular charitable gala dinner is centered around award-winning wines and spirits, with promotions in the catalog, in displays, and from the auctioneer.

Point of Sale -

Customizable FLIWC bottle tags and shelf talkers are available for all medal winners.

Beautiful Medals -

We issue beautiful medals with ribbons for display in your tasting room.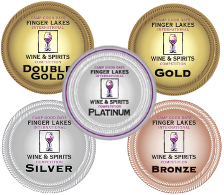 Stickers
Show the world that your wine and/or spirit earned a medal in one of the premier competitions in North America! Stickers are available in Platinum, Double Gold, Gold, Silver, and Bronze categories. Each roll includes 500 stickers at $35.00 USD per roll, plus shipping and handling.
Stickers are now available to order online by visiting our Camp Good Days' WEBSITE HERE!*Reproduction agreements are also available to create your own stickers or labels. For questions please call 800-785-2135.
Below please find promotional materials to help you promote your medal-winning wine and spirits! For each medal category (Double Gold, Gold, Silver and Bronze) there are shelf talkers and bottle tags available for you to download and print.
2023 Shelf Talkers