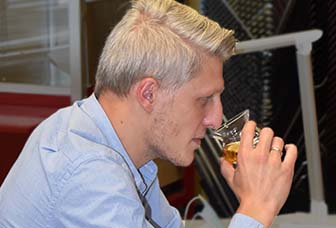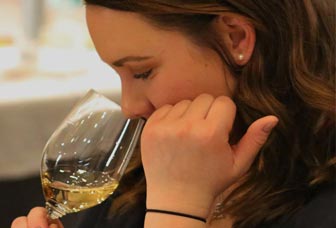 Year after year, the FLIWC draws a diverse panel of the highest quality judges from all over the world.
Judges for the Finger Lakes International Wine and Spirits Competition (FLIWC) are drawn from a wide set of qualified national (~ 75%) and international (~ 25%) wine and spirits professionals. They include Masters of Wine, Master Distillers, Sommeliers (CMS), Educators (SWE), journalists, winemakers, academicians, and other top internally certified judges, as well as WSET and MW students and graduates.
Judging Process
The FLIWC has earned great respect throughout the years. Those involved in the competition show consistent professionalism and altruism through the competition's large monetary contribution to Camp Good Days and Special Times. The FLIWC has such a widely known reputation, we have evaluated up to 3,000 entries each year.
Judges are carefully selected and invited to apply. The competition typically involves 50 judges that are organized into panels of 3 or 4 that represent a mix of professions and geographic regions. Entries are judged 'blind' in flights by class with only non-specific information such as varietal, vintage residual sugar and % alcohol.
The FLIWC utilizes a 'consensus' judging process wherein each judge evaluates each wine or spirit independently. An experienced Panel Captain then conducts a discussion to arrive at a final determination for each entry.
Medals awarded include Bronze (commercially sound), Silver (meritoriously representative), Gold (exceptional in its class) and Double Gold (unanimously exceptional & remarkably distinctive). The newly added Platinum medal is awarded to the entry that holds extraordinary distinction during the "Best in Class" evaluation. Panel decisions are not altered or adjusted in any manner.
Wine Best-In-Class Awards Include: Riesling (Dry/Non Dry), Chardonnay (Oaked/Unoaked), Sparkling, Ice Wine, Fruit, Hybrid White, Hybrid Red, Cabernet Sauvignon, Cabernet Franc, Merlot, Vinifera Red Blend and Rosé.
*NEW Best-In-Class Wine Awards in 2023: Pinot Noir and Mead
Spirit Best-In-Class Awards Include: Brandy, Bourbon, Gin, Flavored Whiskey, Whiskey, Liqueur, Vodka, and Rum.
How We Judge Your Entries
Each entry is judged on its own merit — its presence, balance and varietal character - not by how it compares to other entries in the flight.
While it is common knowledge that wines and spirits go through various stages of quality development, each entry in the FLIWC is judged for what it is at the time of judging - not for what it might become in the future.
Entries are blind judged in flights, with each wine identified only by a computer generated code number.
Each glass is labeled with this code number and the judges are given a scoring sheet with the number and the variety of the entry.
All flights are staged in a separate back room and delivered to the judging room. Re-pours, when necessary, from a second unopened bottle are also staged in the back room and delivered to the judging room.
All entries are presented to the judges in professional crystal stemware.
2022 FLIWC Committee
Teresa Knapp
Flighting and Results
Greg Cutt
Set-up and Serving Captain
MaryLu Schoeneman
Judge Liason
Shelby Knapp
Re-pour Captain
Brandon Anderson
Cork and Bottles Captain
Eileen Hammond
Glasses Captain
Jamie Varble
Event Director
Karl Rudolfs
Entry Manager
Amanda Anderson
Volunteer Coordinator
2022 Wine Judges
Peter Becraft
New York
Head Winemaker of Anthony Road Wine Company
Peter Bell
New York
Head Winemaker of Fox Run Vineyards, Enologist, Lecturer
Kler-Yann Bouteiller
Quebec
Wine writer, Sommelier CMS 3
Brian Butterfield
New York
Bar manager at Kindred Fare
Jean Pierre Colas
Ontario
Winemaker at 13th Street Winery
Byron Davis
New York
WSET Diploma, MW candidate, Director of Sale and Consumer Relations at Trestle 31
August Deimel
New York
Winemaker at E&J Gallo Winery
Nick Dovel
Virginia
General Manager at Pollak Vineyards
Tito Erb
New York
AWS Wine Judge, WSET2 with Merit
Stephanie Fenner
New York
WSET3, Brand Ambassador for Hosmer Winery
Morten Hallgren
New York
Owner and Winemaker at Ravines Wine Cellars
Holly Howell
New York
Sommelier, Independent Wine & Spirits Professional, Wine Educator at "UNCORKED"
Maiah Johnson Dunn
New York
Writer, Beverage Education Manager at New York Kitchen
Aimée Lasseigne New
Long Island
NYC Brand Ambassador for Lieb Cellars, WSET Diploma
Rhianna Millay Bangs
New York
Territory Manager at Winebow
Phil Plummer
New York
Head Winemaker at Montezuma Winery & Hidden Marsh Distillery, Idol Ridge Winery, and Fossenvue Winery
Gina Certa Shay
Michigan
Sales Representative at Cadus North America, Marketing Director at Michigan Wine Cooperative
Shelly Wilfong
Texas
Wine Educator, Writer, Texas Wine Podcast host
Abby Wilkens
New York
Assistant Winemaker at Lakewood Vineyards
Laura Winter Falk
New York
Co-owner and President of Experience the Finger Lakes, Sommelier, Adjumct Professor of Wine, Author, CS, WSET3, phD in Food and Nutrition
Kayla Young
New York City
New York Regional Manager at Demeine Estates
2022 Spirit Judges
Samantha Burr
New York
Fine Wine & Spirits Consultanat at Independence Wine & Spirits
Chris Carlsson
New York
Professional Judge, Spirits Instructor, Wine & Spirits Writer
George Catallo
New York
Freelance Spirits Writer & Consultant, International Spirits Judge, Certified Sherry Wine Specialist
Chris Lindstrom
New York
Owner of the Food About Town Podcast and Blog, Co-founder of Phrankly
Jacob Rakovan
New York
Mixologist, Owner of The Spirit Room
Matt Wyant
Colorado
Spirits Judge, Former Distiller