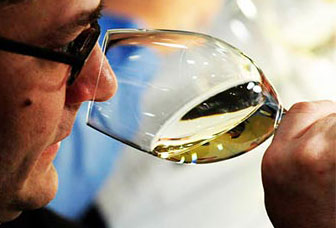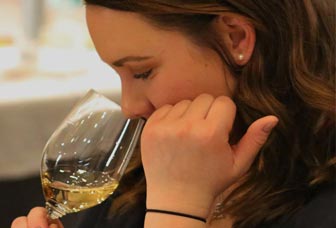 Year after year, the FLIWC draws a diverse panel of the highest quality judges from all over the world.
Judges for the Finger Lakes International Wine Competition (FLIWC) are drawn from a wide set of qualified national (~ 75%) and international (~ 25%) wine professionals. They include Oenologists, Certified wine judges, Sommeliers CMS), Educators (SWE), Winemakers and Academicians, as well as WSET and MW students and graduates.
Judging Process
Given the reputation and respect that the FLIWC has achieved through years of demonstrated professionalism and the competition's widely lauded funding contribution to Camp Good Days and Special Times - over 3,000 wines are entered.
Judges are carefully selected and invited to apply. The competition involves 50 to 60 judges that are organized into panels of 3 or 4 that represent a mix of professions and geographic regions. Wines are judged 'blind' in flights by class with only non-specific information such as varietal, vintage residual sugar and % alcohol.
The FLIWC utilizes a 'consensus' judging process wherein each judge evaluates each wine independently. An experienced Panel Captain then conducts a discussion to arrive at a final determination for each wine.
Medals awarded include Bronze (commercially sound), Silver (meritoriously representative),Gold (exceptional in it's class) and Double Gold (unanimously exceptional & remarkably distinctive). Panel decisions are not altered or adjusted in any manner.
Best-in-class awards include – Sparkling, Chardonnay, Riesling (John Rose Trophy), Cabernet Franc, Cabernet Sauvignon, Merlot, Fruit, Ice Wine (Crystal Grape Trophy) and Best South American wine (Raul Castellani Award).
2019 FLIWC Committee
The following people comprise the 2019 FLIWC Committee (click on any committee member's name to read their bio):
TERESA KNAPP
Flighting and Tabulation
CURT BALCH
Backroom Manager
KEN FANTON
Backroom Coordinator
GREG CUTT
Set-up Supervisor
DOLORES FANTON
Competition Logistics
TOGO DEBELLIS
Competition Logistics
GARY MERVIS
Camp Good Days and Special Times
WENDY MERVIS
Camp Good Days and Special Times
KARL RUDOLFS
Camp Good Days and Special Times
AMANDA ANDERSON
Camp Good Days and Special Times
JAMIE VARBLE
Camp Good Days and Special Times
ZACH FORBES
Camp Good Days and Special Times
2019 International Judges
The following judges are slated to participate in the 2019 competition (click on any judges name to read their bio):